Want to "weed" out man-made pharmaceuticals to help relieve some of your pup's ongoing health problems? You're not alone. More and more pet parents are turning to an all-natural alternative, CBD Oil for Dogs which contains Cannabidiol oil (better known as CBD oil), made from the hemp plant.
Studies have shown that CBD oil and other CBD products are beneficial for several human health issues, including anxiety, pain, seizures and neurological disorders. But is CBD effective and safe for dogs?
What Is CBD Oil?
Cannabidiol (CBD) is extracted from the flowers and buds of cannabis (marijuana or hemp plants). CBD, however, doesn't produce the "high" associated with marijuana because it doesn't contain the chemical tetrahydrocannabinol (THC).
For further clarification, hemp and marijuana both come from the cannabis plant but contain different levels of THC. Marijuana can contain as much as 30% THC while the hemp plant has a max of only 0.3% THC. So, while marijuana-derived CBD oil is still illegal in most states, the hemp-derived oil is legal in all 50 U.S. states.
Human use of CBD oil is growing in popularity, especially in states where medicinal and recreational marijuana use is legal. But can you give CBD oil to dogs? Is it safe for our canine friends and other pets?
Many vets recommend CBD oil for dogs, even as veterinary scientific research into this new treatment is in its infancy. Studies in humans, however, show that cannabinoids have anti-inflammatory effects and can help with anxiety, aggression, pain, seizures, muscle spasms and neurological disorders.
CBD Oil vs Hemp Oil: What's The Difference?
Many people think CBD oil and hemp oil are essentially the same, but they're not.
CBD Oil
CBD is an active cannabinoid compound that comes from the leaves, flowers, and sometimes stems of mature cannabis plants. It's this compound that provides the medical and therapeutic benefits you get from CBD oil (see below).
Hemp Oil
In contrast, hemp oils are made from cannabis seeds, which contain little to no amounts of CBD (or THC, for that matter). While hemp seeds don't share the same therapeutic characteristics as CBD, hemp oils have their own unique nutritional benefits. Many pet owners use hemp oil as a nutritional supplement because it's vitamin and mineral-rich.
How Can CBD Oil Help My Dog?
Like humans, dogs and cats have an endocannabinoid system that allows them to benefit from CBD oil. This system allows the active ingredients in hemp to help relieve many symptoms.
CBD drops for dogs or CBD dog treats can ease several conditions your pup may suffer from either occasionally or chronically, including:
Anxiety and stress
Moderate to severe pain
Chronic inflammation
Arthritis
Joint pain
Seizures
Digestion problems
Expert's Take On CBD's Effectiveness For Dogs
Dr. Erin Chu, a veterinary geneticist at Embark Veterinary, weighs in on how CBD can help dogs.
"Veterinary scientists have demonstrated that CBD oil can be effective in pain management for osteoarthritis (Source: Gamble et al, 2018) and are actively exploring its use for intractable epilepsy (Source: McGrath et al, 2019). While CBD is very commonly recommended (or inquired about) for anxiety, there is no formal research as of yet that demonstrates its efficacy."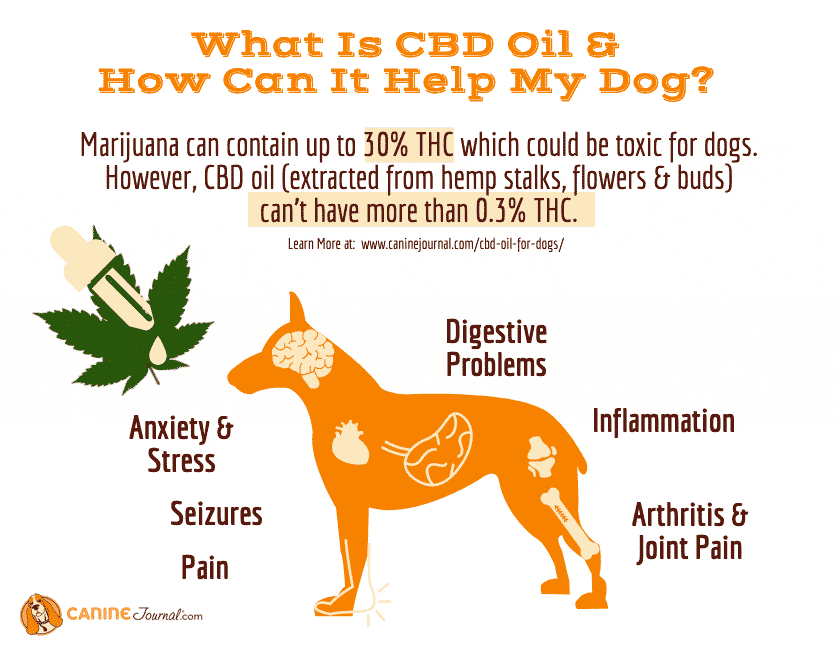 How Do I Find High-Quality CBD Oil?
Since CBD oil for pets isn't yet regulated, there are some vital factors to consider when searching for the most effective and safe products.
Is it organic? High-quality CBD oils are made from organically grown hemp that's free of toxins.
How is it processed? Safe methods include carbon dioxide and cold press extraction. Some companies, however, use cheap methods and potentially toxic solvents, like propane, hexane and butane, to extract THC from the plant.
Is it independently tested? Look for companies that independently test their products and provide a certificate of analysis (COA). Testing can include Microbiology, Pesticide, Mycotoxin, Residual Solvent, Heavy Metals and more.
What's the THC level? Check every product for its THC potency. Some products contain higher levels of THC, which could be harmful to your pet. Look for products with less than 0.3% THC.
How Much CBD Oil Should I Give My Dog?
Vets and experts urge using caution when giving CBD for dogs, mainly because there haven't been enough scientific studies to prove its efficacy or safe dosage level. Still, many vets already recommend CBD oil for dogs.
Here are some tips from holistic veterinarians, who have loads of experience using CBD for pets:
Consult your veterinarian before you give your pet any treatments.
Start with a very low dosage (0.25 mg once a day) and slowly increase if needed. Monitoring your dog's response to CBD (or any medication) is crucial.
Take into account your dog's weight, size and activity level — these factors can help you determine how your dog will metabolize CBD (and other medications).
Consider your dog's other health conditions that may affect his ability to react to or metabolize CBD, e.g., liver or kidney problems
Find a high-quality CBD oil that's free of any kinds of toxins. Since the industry isn't yet regulated, there are some potentially sketchy products out there.
Buy the correct potency for your dog's size. Most oils come in different CBD potencies, e.g., 75mg for small dogs; 300+mg for large dogs. Each company differs in the potency levels offered. Note: this is not the THC potency.
How Long Before It Takes Effect?
You're probably wondering when you'll start to notice CBD taking effect after you give it to your pup. It depends on what condition you're using it for. For anxiety, you may notice changes as quickly as 5 to 30 minutes. If you're using it for chronic pain, arthritis or inflammation issues, it may take a couple of weeks to see consistent results. It can also vary by the brand and dosage amount you're using.